Saturday, November 11, 2023, 12:01

Nick Hornby (Maidenhead, 1957) remembers with enthusiasm his book 'Fever in the stands' about football and passion. This novel, on the other hand, seems to be a literary experiment of which the subtitle 'A marriage in ten parts' gives clues.
the state of the union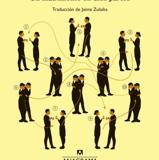 NICK HORNBY
Translation: Jaime Zulaika, Ed: Anagram, 148 pages.
Price: 17.90 euros
The author reproduces the same scene…
This content is exclusive for subscribers