Monday, October 23, 2023, 11:33

If you also long for those folding phones from 20 years ago but don't want to give up everything that the latest imaging and telephony technologies offer, you're in luck: foldables are stronger than ever.
I admit it: I loved them too and they still do. There was a certain magic in that simple but unrepeatable gesture of opening or closing the cell phone cover with the insufferable cockiness that only a teenager from the 90s/2000s could have.
It turns out, however, that the almighty marketing geniuses know as well as, if not better than, what we all miss. And this time they have managed to bring it back, only much better than it ever was.
Although folding phones are not strictly a novelty, The Z Flip5 brings the lesson very well learned and offers its best version to date, polishing and optimizing everything that characterizes this type of phones.
Furthermore, it doesn't come alone: ​​if you buy it between October 23 and November 9 you will get a Samsung 55" QLED Smart TV valued at €999 as a gift.
Galaxy Z Flip5, so much in so little space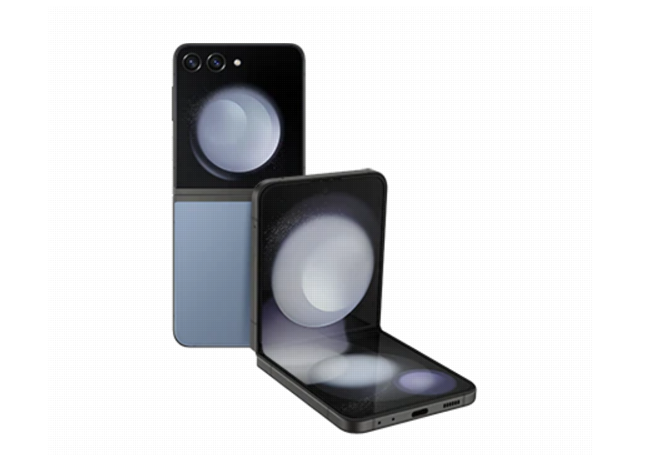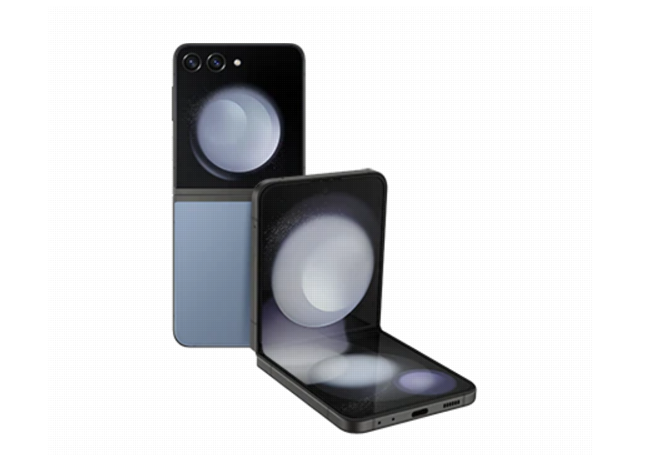 It is no secret that folding phones are designed to have a large screen mobile phone in the small space it occupies when closed, fitting into any type of pocket or corner of the bag.
The Galaxy Z Flip5 obviously meets this point, with a 6.7″ 2,640 x 1080p Dynamic AMOLED internal screen and folded dimensions of just 71,9 x 85,1 x 15,1 mm. Although this is far from being its best asset, as we see below.
An external screen that lives up to the name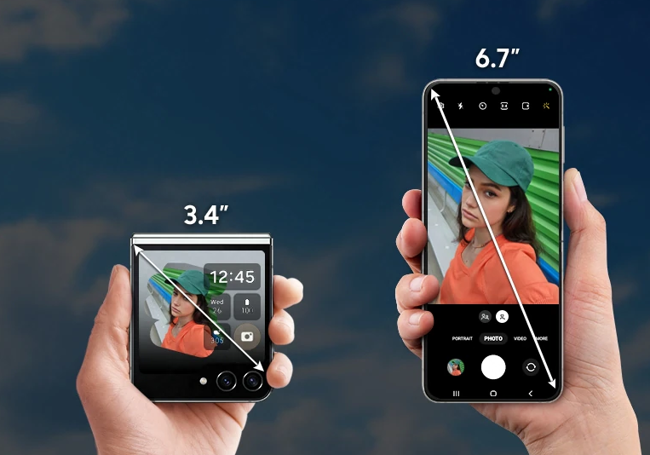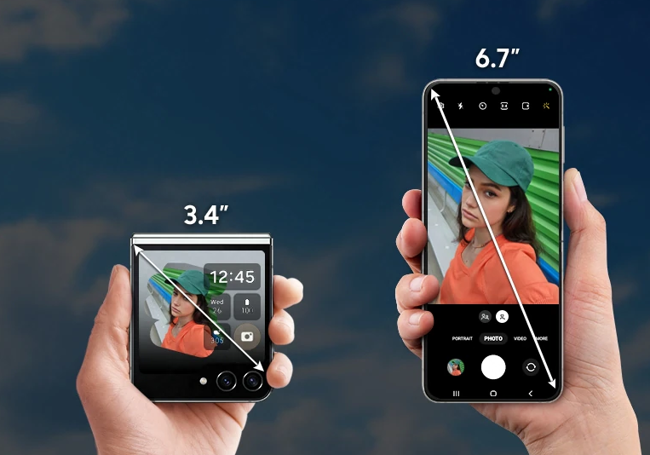 It is common in this type of models to find a small external screen that allows you to check notifications and use some widgets to speed up and not have to open the smartphone for each small query, thus extending the useful life of the main screen. However, in practice, it is little more than that: a small space not much more useful than the screen of a smartwatch.
This is not the case on the Galaxy Z Flip5, since We find ourselves in front of a screen with all the provisions of the law, which allows you to use practically any app quickly and comfortably without having to open your phone. It is perfectly possible to have WhatsApp conversations or take a look at the latest posts on the old Twitter without the slightest problem, something that is greatly appreciated outside the home.
In addition, the folding format continues to offer us other advantages such as hands-free selfies by resting it on any surfaceor use it like this, at 90º, for video calls.
The external screen is a 3.4″ Super AMOLED and 748 x 720p, something that is much more than it seems.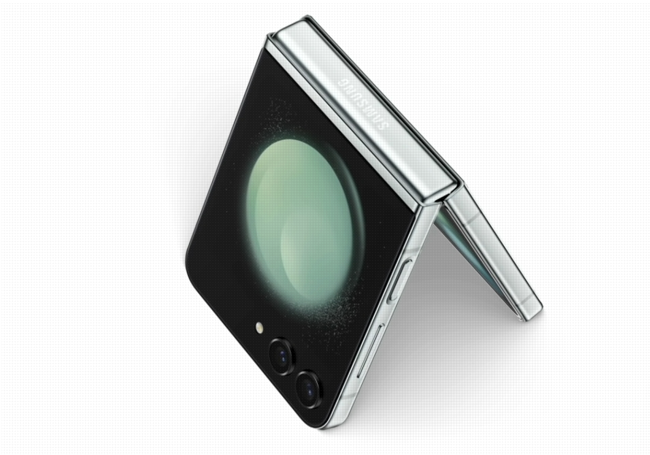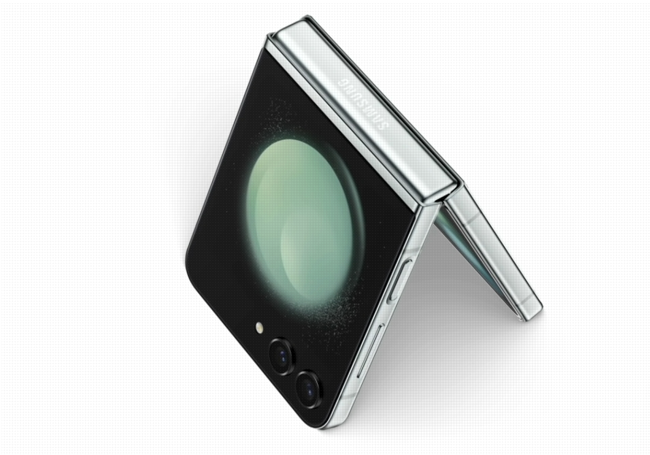 As for its more general characteristics, we have the powerful Snapdragon 8 Gen 2 for Galaxy processor: a real beast, although at full performance you have to be careful with overheating, which understandably reduces performance. We also have 8 GB of RAM and a 12 MP main camera that is surprising for its resolution, in which we must highlight the digital zoom, which is strikingly clear.
The 3,700 mAh battery provides enough autonomy to last a full day without problems. even with intensive use, although it is true that it needs a night charge before throwing it into the ring for a second day. That is, normal.
Ultimately, it is about a foldable terminal that lives up to your high-end expectations, with impeccable finishes and top-of-the-line power, which on this occasion surprises with an external screen that allows agility and comfort of use never seen before.
Your Samsung 55" QLED Smart TV as a gift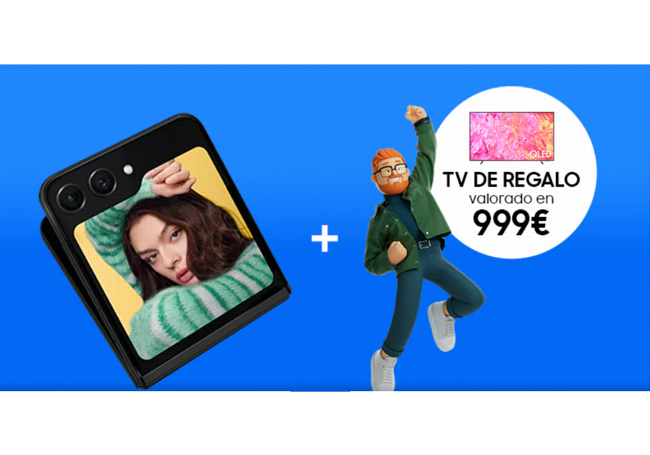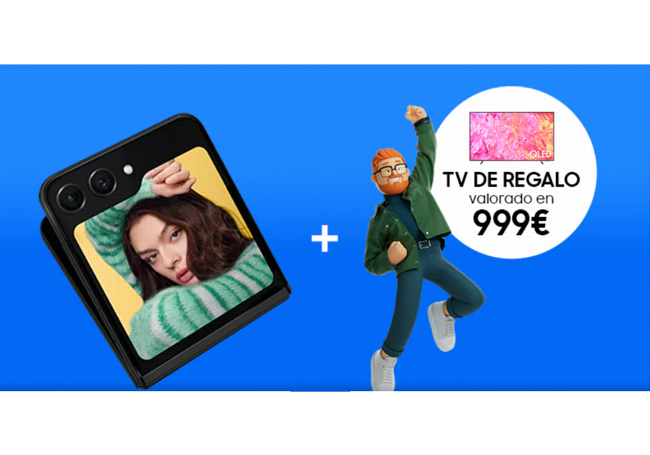 It's true, there's no trick: by purchasing your Galaxy Z Flip5 in its Blue, Green, Gray or Yellow colors, with 8 or 12GB of RAM and 256GB, 512GB or 1TB of storage, you can equip your living room with a 55" 4K Smart TV. And not just any Smart TV, it must be said: it is not a cheap model that Samsung will get rid of. We are talking about the TQ55Q60CAUXXC: a television with Quantum Dot and a real price of more than €600.
With Dual LED backlighting and Quantum Dot technology, it offers a color depth of 8+2 and goodies such as the Filmmaker mode, a must on current televisions of a certain level that allows you to enjoy movies and series with the configuration and adjustments of color, brightness and so on, chosen by the director in each case.
So take advantage of the opportunity and, from 9 in the morning of October 23 until 9 a.m. on November 9, equip your pocket as well as your living room or your bedroom (if it is big enough for a 55″ Smart TV) without paying an extra euro. And during the first weekend of the promotion, you can enjoy an extra 5% in cart with all premium week + TV products. Check the bases of the promotion here and feed your nostalgia with the latest technology.